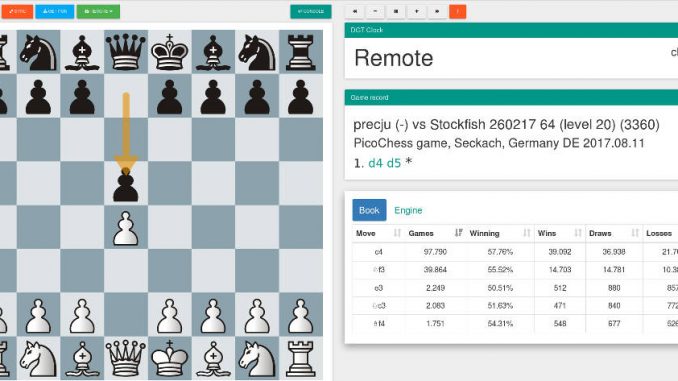 Updates done in v0.9d (Alternative)
Bugfix with "Alternative move" see issue #239 This happened in very rare conditions. But its now solved
Bugfix with "update menu" & new v0.9 version numbers
when inside the menu playing a legal move leaves the menu now
Updates done in v0.9e (Remote)
Updates engines: Zurichess Luzern, Arasan 20.2.0 and Floyd v0.9. So these 3 engines are uptodate again. Also updated the elo rankings of all non-levels chess engines based on a raspberry pi3 running at one core. This rankings are shown in the webserver and also transfered to the pgn file – its only for your info – since rankings depends on a lot of factors just like "level" or any uci settings.
Some updates for the clock display on error situations like "fails to start an engine" or if you change the mode during a computer move is displayed.
Reorder Menu on "Ponder" & "Remote". Ponder is now with wQe5 and Remote moved to wQh5 if you use the quick queen setup at start position (see below why)
Work in Progress for the Remote mode. The before status (<v0.9) was: It works but users have to change their port-forwarding inside their router. This is abit complex for alot of users. So i'm now began to work on a server on the internet where each picochess connects to. With this version this is already working. But right now, you can only chat with the other person who is in same chess room. No big deal! But i will continue to work on it to also allow to play a game over the internet. The old system is still working but you must now first enter any room of your choice as an extra step. Thats cause now you can't enter a remote mode if you not connected to the picochess remote server. The remote enter system you can find in the webserver on top with the "remote" icon. When the new system is fully working, the old one will be disabled for sure.