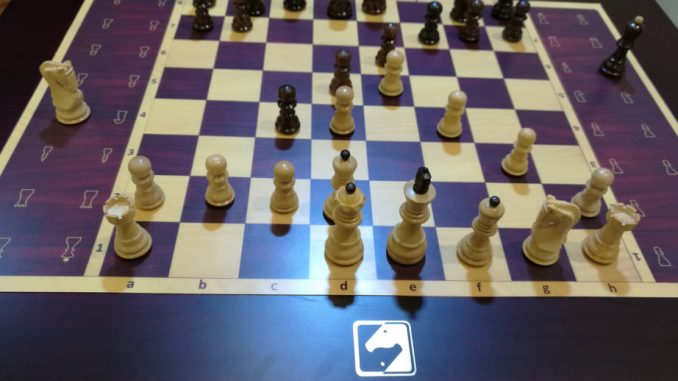 This is my last post for the toysfair Nürnberg 2018. My last stop took me to SquareOff. Their self moving pieces chess board is very famous – i talked already about this chess board.
Finally i could see it live. SquareOff joining alot of different fairs but until now i never seen them in germany. Actually its a shame cause i know alot of packers from germany have ordered/pledged this board. Well finally they showed up here 🙂  I had some nice talks with the leaders and i also took the chance to get a direct answer why they had shifted the delivery of their board alot of times including starting the kickoff twice. But i think the delivery is now in reach – at least i saw a picture of a guy in US having this board already. The idea of self moving pieces is really great! And it gives alot of possibilites. During the talk i also adress the problem of a not-so-nice person shifting the captured pieces around. Sadly the board is not prepared for that.
Another worry i had is that i would be disturbed by the motor moving the pieces. But this is not the case! You must really put your ear on the board to hear the motor running. Finally as i said already in first post – i hope there is a chance to combine this chess board with picochess. That the user needs to move the pieces is always a problem – but this can be solved with the SquareOff board. Lets see.
Here is a new movie from Shivkumar Shivaji when he tested his arrived Square-Off Board at home:
square-off board
Here are two more pictures i shot at the meeting: