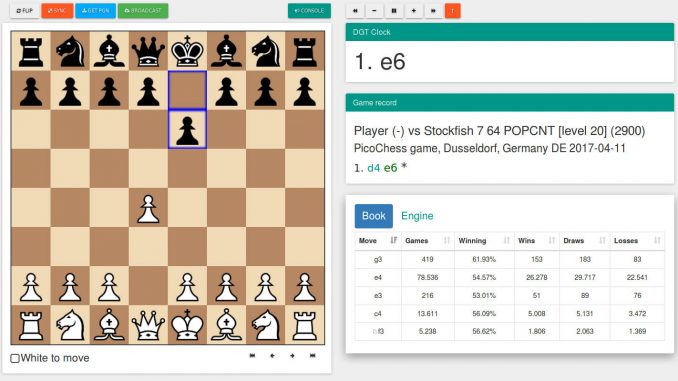 This version is a relative big update to picochess. But the main area is at the webserver especially it now displays the DGT electronic clock. So, if you never used this webserver display you probably don't see too much difference. Future releases will increase this webserver functions even more (for example i plan to update the "remote play" soon). Another update addressing several engines. Here is a short list of updates picochess v0.85 has:
several armv6l engines back – This is useful for the Raspberry Pi Zero W hardware (see my former post).
Smoother display for various displays (incl. Kuman see below). I spend quiet alot of time on making the display as responsive as possible.
Moves are now shown with a from-to square enlighting like a Revelation II chess computer (see top picture).
The DGT clock is now also shown at the webserver (incl. working buttons).
the old console mode (with text display) is gone. This function is now part of the webserver.
Arasan 20.0.0 update (that also solves a bug on this engine with

fivefold repetition)

.