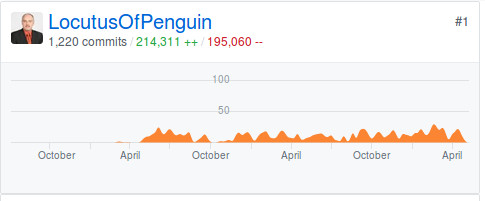 Picochess @github reached over 2000 commits!
I'm part of the picochess developer team. As you can see i committed in the last 2 years over 1,200 commits and concerning the github picture – see above – almost 20,000 new code lines. Also this webpage is now 1year old. So two celebrations in one.

Following this (german) proverb "Don't ever trust statistics that you haven't falsified yourself" I have a good ranking in this github statistic 😉 Anyway, i always enjoy to do something for picochess. I also want to thank all the people outside, providing good ideas, tests, and even source code to let this project be as it is right now. Looking forward to a new history with another 2,000 commits. If all running well, i also expect a picochess v1.0 coming out end of 2017.
Asking for help
Despite looking for people who can help me with the source code (you need to know python3), i'm looking for the following help areas. If you want to do something for the picochess community please contact me.
record voices in various languages (german, english, dutch, french, spanisch, italian). Especially in french and spanish there is only Christina's voice.
test picochess. This works best, if you know linux abit. You need to be able to checkout the code. It would be also very good, if you have a Revelation 2 or an old dgt chess board for example a serial-only one, cause this hardware i don't have. Even if you can't fulfill these wishes, you can still be very important for me. Sometimes we need to test for a new engine, or just play alot of games to see if everything running well.
you might provide good ideas for new features
if you don't know python3 but know how to build good UIs perhaps with javascript knowledge…well, there is a big field for improvements in the webserver