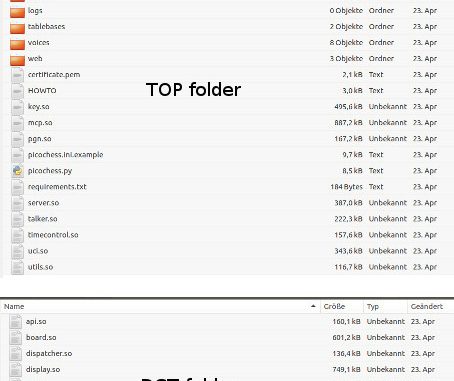 Howdy registered users! This is my second post with restricted access. Update May 2020: Its now freely available 😉
The main design goal for this version was to continue with the v0.9p license system. On v0.9p there was the first part with license on time = as long your subscription is valid. This version Q allows to license on a version number too. The main advantage is that you dont need to have all the time iNet access. The disadvantage is that you can only get ONE version not updating/downgrading during yr subscription time.  I post something about the license system lateron in detail (for now see the former post). So far the good news. But right now this new system (version based) is only available to year subscription persons.
Following things are also updated/improved:
"set pieces" working again on new game position
several small changes on multi clocks when exiting the menu or display some messages on one clock only (example: "takeback")
display better license info on update menu
Please be aware that this needs for example some linux (copy) commands etc. If y have no idea of linux please do NOT download these files, ok? No refund if y did – esp not if y have a month plan only. For 6,00€ y cant expect i solve all yr problems but i will try to help y (as i did in past too)! If you already have the former v0.9p version working updating to this version is alot easier now (=fewer commands to type).
You can no longer download this package (closed on Feb 2019)