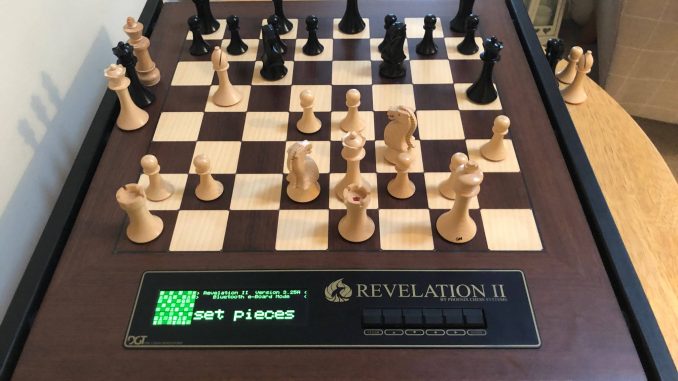 Finally the revelation II chess computer got a massive update concerning its emulation of DGT-XL clocks. For long i asked the developer Ruud Martin to update his rev2 to the newer DGT-3000 chess clock. And this is done now. Actually he not only updated to DGT3000 clock, no…he moved ahead and you can now enjoy a complete 11 chars display like the DGT-Pi would offer! Great news isnt it?
To reach this goal on the picochess side you need this version. Picochess will recognize if you have such Revelation2 and activate the 11chars automatically. If it stays with 6 chars (XL-mode) your Revelation is probably not upgraded (for sure you need a new firmware v3.25 upwards). You can find this firmware on DGT's webpage in its "support" section.
Off-Topic: This firmware also includes some other missing engines Ruud promised to do. So, its really worth to get your hands on it.
In addition to the revelation stuff i did the following:
bugfix brain mode returning "engine error"
documentation updates
bugfix voice menu (first displayed value wasnt the safed one and more)
included some x86_64 engines for easy usage on non ARM systems
new spanish voice "Santiago"
new dutch voice "DirkJan"
improvement on DGT-Pi shutdown (wQe1) with remote engines activated – Work in progress
bugfixes on modes kibitz & ponder for various events like checkmate, startup, takeback
bugfix remote engines on level setup (the level settings weren't transmitted correctly)
The title picture was given from Al Cooper to me. He was helping me to test this new firmware on his Revelation. Thanks!