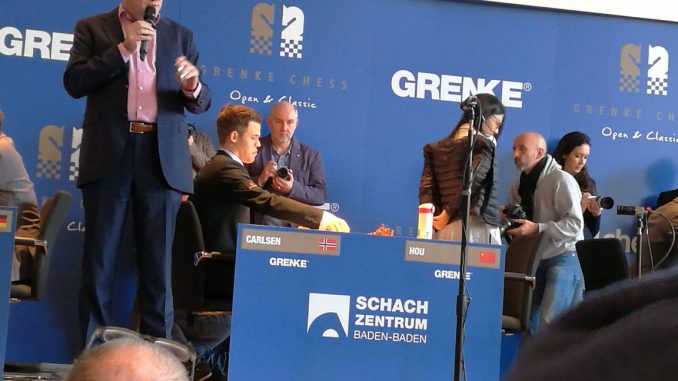 From 31.March until 09.April there is another Grenke Chess Classic here in Karlsruhe (the city where i live). I took the chance to enter on Round 2 and 3. Its really great that so many high level GMs are playing in my city and Baden-Baden. Details you can also find on their Grenke Chess Classic webpage.
Two years ago i also been there (in Baden-Baden) but this time i also wanted to see how Georg Meier is doing. He is not the best player in this field but he is the only one who played against Shivkumar Shivaji – my collegue with picochess – some years ago in San Francisco. That was a really amazing attacking game cause Shivkumar has its own idea of playing a GM giving Meier some hard time – even he finally won. Since Meier had the chance to win against the Carlsen on round 5 Shivkumar can't be bad either 😉
I had a short talk with Georg Maier after his game and i asked him if he remembers Shivkumar Shivaji and to my supprise he did. Really great.
Despite this Classics Tournament at the same time there was also running an Open side by side. Some young players from my chess club also took part in various groups but the most important news from this is that Vincent Keymer a 13 years young german won this tournament against lots of over 2500 ELO GMs taking his first GM norm. Well done Vincent!
A few days later i had a talk with DGT and Lucas told me, that Artur Jussupow is visiting the DGT head quarter in Enschede. Lateron i found out that Jussupow is the trainer of Vincent and during his visit he said that he likes the DGTPi. Have i said that these guys using DGT boards on the tournament?!? Is there any connection with DGTPI & e-Boards and being a good player? Another strange connection: Mr Jussupow is member of Solingen chess club and this year they host the "german championship of team blitz" on 26.May and my chess club is taking part – see here. For the connections im abit joking, forgive me.
Find some pictures i shoot on the two days: